GOPRO BENEFITS
Shooting with a Gopro camera is simplified because of the field width of these cameras. Indeed, the large field coverage per image limits the number of photos and thus simplifies both the number of manipulations during shooting, and also simplifies the assembly of images that we will see later.
Another advantage of the Gopro cameras, they are small, so any rotation around the central point of the camera will be very close to the nodal point (optical point nullifying the parallax errors), and this allows to obtain images whose assembly is easy.
As for the result, it will already be of good quality. Nevertheless, the best quality will be achieved with a reflex camera rather than a Gopro camera whose use, remember, is initially planned for the capture of video sequences.
FIXING THE GOPRO
For my part, I use a simple mounting with 2 L-brackets that, once mounted on the tripod head, can direct the camera in all directions. The configuration looks like this: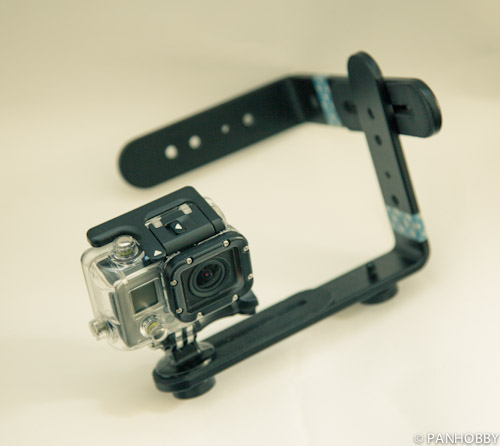 We will take several views in sequence so as to cover all possible directions, and thus be able to reconstruct the entire space. For that, it will be enough to act on the various degrees of freedom of fixation and each time to take a picture.
DETERMINATION OF THE NUMBER OF VIEWS
With a Gopro camera that as already indicated offers a wide angle of view, the shooting is done with a limited series of 25 photos. The photos are taken in three rows of 8 photos, each with a rotation of 45 ° compared to the previous photo. The 25th and last image is taken vertically for sky capture.
The advantages of the 45 ° rotation are the simplicity of the marks and a level of superposition that can be used for transitions management. Indeed, since the image is created by assembly, the moving elements can appear on several images.
The rows are:
8 photos with a downward tilt
8 pictures horizontally
8 photos with a tilt up
1 photo of the sky vertically
Example of camera position: