The basic equipment required for shooting panoramic, 360° or mini-planète photographs with a SLR camera is presented on this page.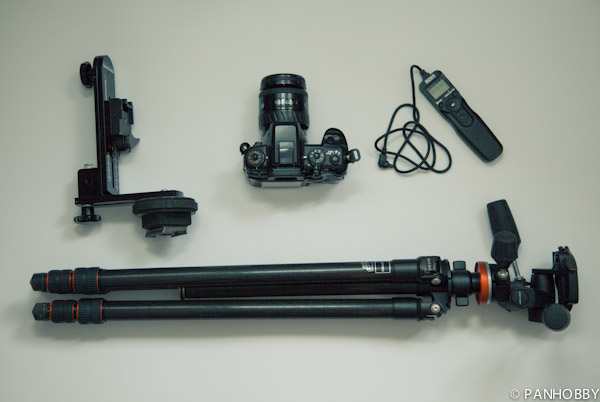 TRIPOD
The tripod is generally used for the stability of the camera it provides. In the context presented here of the panoramic photography, we use it first to guarantee the capture of images of a series from a single spatial position. Only the orientation of the camera will change. The chosen tripod must allow the stability of the complete system (camera, panoramic head or double L), the best choice naturally depends on the camera and the panoramic head. For my part I use a tripod Gitzo (model GT2830) with a three-axis head of Manfrotto.
PANORAMIC HEAD
For DSLR, the body-lens assembly being more bulky and heavy, it is necessary to use a fixing device that allows the rotation of a specific point (nodal point) at the intersection of the axes of rotation. This device called panoramic head or spherical head is more and more widespread, several models exist on the market (the head I use is the Panosaurus). It is also very simple to build your own panoramic head from standard items of commerce found in DIY stores.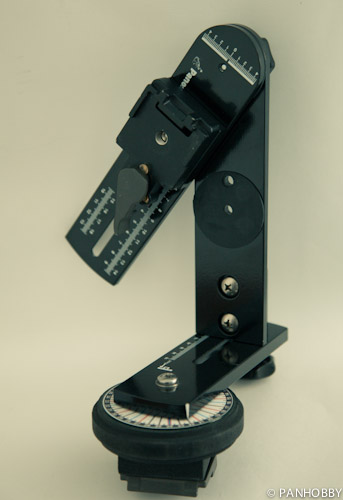 CAMERA
Of course, it is the indispensable element. Any digital camera will allow the shooting presented on this site, nevertheless, the ease of realization as well as the results obtained will depend on the material used. For a very qualitative result, I use a camera Canon 5D Mark II in the semi-professional range. This choice is to be reserved for an informed public, all the settings are disengaged and adjustable manually. The images obtained are of a very high quality level, at the level of the sharpness, the rendering of colors and the rendering in low light conditions, the images are superb.
REMOTE TRIGGER (Optional)
This equipment makes it possible to trigger the capture of photographs without touching the camera, and thus without risking the slightest vibration of the latter. In the specific case of multiple shots, this also allows to be faster. Today, the triggers are electronic and can also program sequences at regular intervals.