The Perche Regional Natural Park is a very natural destination just 1 hour 30 minutes from Paris (France). Apart from the well-known Percheron (horses), the Perche also reserves surprising discoveries such as its many sunken lanes which crisscross the region. Very well preserved, they are used by the hiking trails which are as many pretexts to discover the typical villages as the green nature.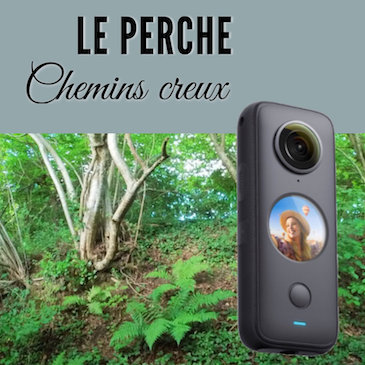 In the virtual tour that follows, I invite you to walk one of the best preserved sunken lanes that I know. As much to preserve it as to give you the pleasure of discovering it for yourself, I have chosen here not to reveal its exact location.
The visit begins at a crossroads of sunken lanes, you can take the cardinal directions West, North and East. In a few images, they lead to exits, some of which are like exiting a dark tunnel to greater clarity.
Some information on the creation of this virtual tour. The camera used is a 360 degree camera (Insta360 ONE X2). The images presented come directly from the camera without any processing or modification of the resolution. The software Pannellum is used for the representation of images and the links between them.
Insta360 ONE X2 is marketed by the company Insta360 .
Pannellum is an Open Source software from Matthew Petroff .