One of the challenges in 360 imaging is the process from capturing to achieving the target result. To help you see more clearly, I offer here a visual representation of the possible work processes, applicable as much for the Insta360 ONE X2 camera as for the other 360 cameras on the market.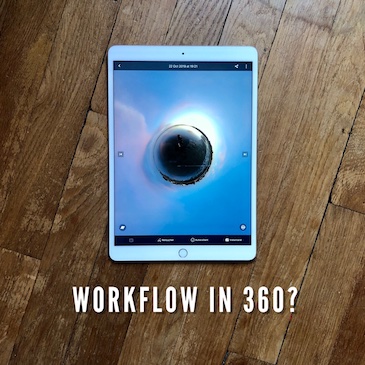 WORKFLOW
An important point is the choice between a 360 mobile or desktop workflow, the decision is all the more important as the bridge between the two is not always possible or documented. This particularity results from an important characteristic: the specific format of the files as much for the photos as for the videos.
In your work process, once the 360 ​​game is finished, your images and videos are in a standard format, you can easily switch between mobile and computer, and thus use the tool and software that seem most appropriate to you.
The following diagram summarizes the process for using the images and videos captured by the Insta360 ONE X.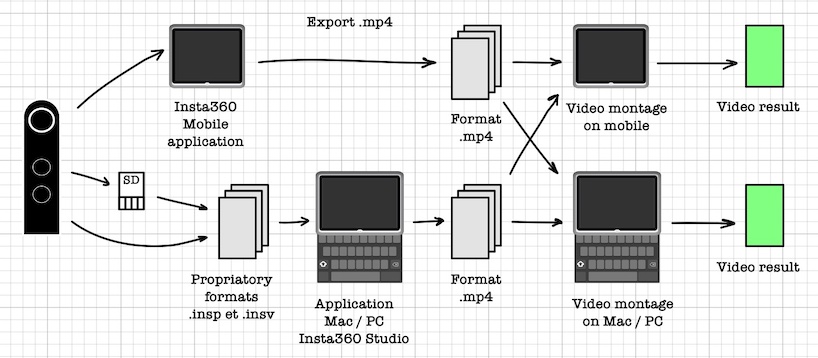 PROPRIATORY FORMAT
As previously indicated, the files produced by the Insta360 ONE X are in a proprietary format, i.e. they are specific to the manufacturer Insta360 and that their decoding (today) necessarily requires software published by the same. company. The formats are ".insp" for 360 ° photos and ".insv" for videos, which will be transformed into jpg and mp4 respectively. For this, depending on whether you prefer a process on a mobile device or on a computer, you will need to use the Insta360 Studio software provided by Insta360 on the Mac / PC or iOS / Android platforms.
Regarding the archiving of your files, in order to limit dependence on the availability of proprietary software, I recommend that you archive images and videos in standard formats (JPG, MP4), and possibly d " archive proprietary source files as well. This solution presents another interesting aspect, the standard files are recognized by cataloging software, and thus allow you to better manage your 360 library.
IN SYNTHESIS
As we can see, 360 content is not yet as easy to handle and manage as standard formats. Are we going to witness the emergence of the native 360 ​​format in the years to come, the question remains unanswered. Likewise, to date, in my opinion, the software offering is not very rich to make the most of the possibilities of the 360. I hope that we will soon have complete solutions rich in functions dedicated to the 360.